Parkman Woodworks is a passionate assemblage of young and focused furniture makers seeking to essentialize the confluence of craft, community and commerce. 
Discover Our Handcrafted Style & Curated Collections
There's something plainly compelling about the marriage of solid wood and metal, a natural pairing of materials that we at Parkman Woodworks dedicate our energies to exploring, innovating and mastering. Our easy aesthetic embraces the raw charm of custom wood furniture, complemented by the polish of expertly formed steel, bringing life to a properly modern, yet enduring design language. 
But hey, we're about more than our striking good looks. We handcraft each piece with focused effort and care from our 100-year-old Los Angeles workshop, ensuring high quality, handmade furniture that adds to the story and character of any space it inhabits.
Our collection spans various categories, from custom wood dining tables that serve as the welcoming heart of your home, to coffee tables that compel you to set the laptop down and put your feet up once in a while. For the real nerds, we have bespoke bookshelves designed to conspicuously showcase your hard-earned literary trophies, and for those seeking elegance in practicality, our console tables and computer desks offer precisely that. 
And let's not forget the bedroom, where our custom made furniture creates an inviting sanctuary. Every item we construct, from bed frames to night stands, reflects our commitment to genuine customer experiences and a dedication to handcrafting custom, top-quality pieces in the U.S. Take a moment to explore and appreciate the artistry that has carved its mark in our curated assortment.
we're nice
and we build nice things
At Parkman Woodworks, we pride ourselves on existing as more than your workaday local furniture makers.

We're a close-knit team of skilled craftspeople who deeply understands the intricacies of woodcraft and metal, casting renewable life into custom woodworks with a mission of sustainability, community and supporting the maker lifestyle. From design to execution, every part of the process is handled right here in our workshop, making us truly homegrown creators of custom furniture in Los Angeles.

But our true specialty is apparent in how we pour ourselves into our work. Each piece of handcrafted furniture is born of dedication to craft and respect for the materials we employ, which are sourced locally and responsibly.

Our team doesn't just make furniture; we craft stories, memories, and pieces that you'll have for a lifetime. So when you choose Parkman Woodworks, you're not just getting nice things - you're getting beautiful, sustainable, handcrafted treasures.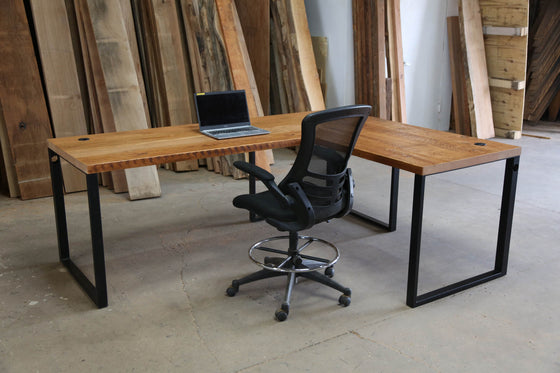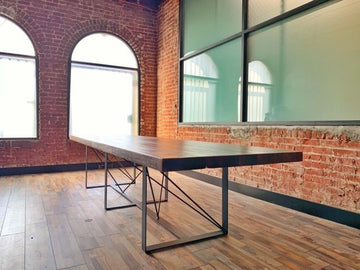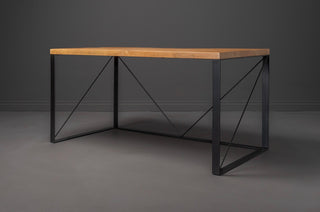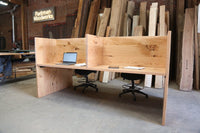 OH, YOU MEAN BUSINESS?
LET'S GET TO IT
Creating a vibrant and productive workspace requires more than just functionality—it demands a touch of warmth and a sense of sophistication. And what better way to achieve this than with handmade furniture that imbues character and class? At Parkman Woodworks, we're champions of handcrafted sophistication, creating pieces that tell a story of meticulous workmanship.

From sturdy farm tables that add rustic charm to your meetings, to bespoke office furniture like custom bar tables, we ensure every piece of handmade wooden furniture adds a touch of authenticity and comfort to your workspace.

We're not just making furniture, we're crafting spaces that inspire creativity and foster collaboration. So, if you're ready to make a statement with your office decor, we're just the craftspeople you need.
Customize My Office
True Craftsmanship, Born and Bred in Los Angeles
In the bustling heart of Los Angeles, a dedicated team of expert craftspeople labor away, transforming mere planks of wood into extraordinary pieces of furniture.

Parkman Woodworks isn't just another name in the industry; we are a testament to what it truly means to create handcrafted wood furniture. Our skill, passion, and commitment to the craft set us apart, helping us deliver only the best for our clients.

Every piece we create, from the most intricate handmade wood furniture to the simplest solid wood furniture, embodies our unwavering commitment to quality. Whether you're looking for custom furniture in Los Angeles to add character to your home or a stand out piece to elevate your workspace, rest assured we can help bring your vision to life.

When you choose Parkman Woodworks, you're investing in a legacy of excellence, locally made, and designed to last. Because for us, it's not just about furniture—it's about creating spaces where life happens and memories are made.